New tee designs, at last!
Well, I've been holding off and holding off on showing any work in progress because, well, I'm still sorting stuff out as and when I get the cash together to do it and I'm constantly changing how I want to style my first bunch of tees. However, I've had a few nudges from guys asking what the crack is and am I actually gonna design some gear, so I thought it best to show what i'm working on at the moment then at least you all know I aint blowing smoke up your asses. Basically, I designed a bunch of tees months ago, but, in true designer fashion I got bored of what I did (even though i had some really positive feedback from some of the guys) and have gone down a different route stylewise. Some of my other designs, which I will post up here at some point, had tweaked graphics I did of cars but they were based on actual car images, which meant that in theory i was just altering someone elses car, which aint what I'm trying to achieve...does that make sense? I'm really into hand drawn, low-fi stuff at the moment and thought it'd be pretty cool to have a play with that here. See, thing is, loads of car tees out there seem to be either photocopied line art from Haynes manuals or stupid ass 'my car goes like your wife' slogan tees, which suck ass really. My angle is, when you buy a DubMissile tee, you know the art on there is original, done by hand (most will anyhow) and actually designed.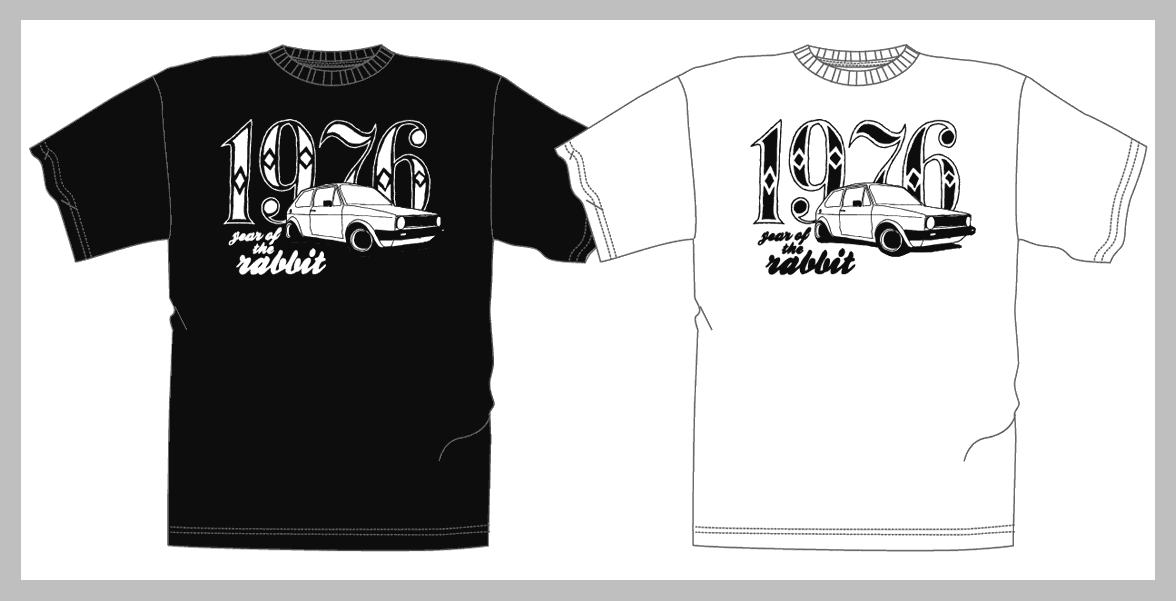 These two tees are the ones I've pretty much finished but am waiting on woven logo labels to sew in AND I've not fully decided on whether they'll be in black and white only, or, a range of colours. The 1976 'year of the rabbit' tee has a bit of a tattoo influence and the 1976 type has been based on a font I liked but needed a vegas touch, so i drew out the numbers and created my own fill with the diamonds, looks pretty cool. This may also change too as I'm pretty sure 1976 was the year it was penned as 'rabbit' but 1975 was the year it was first produced. Any VW buffs out there please email me as soon as and set me straight before I print em.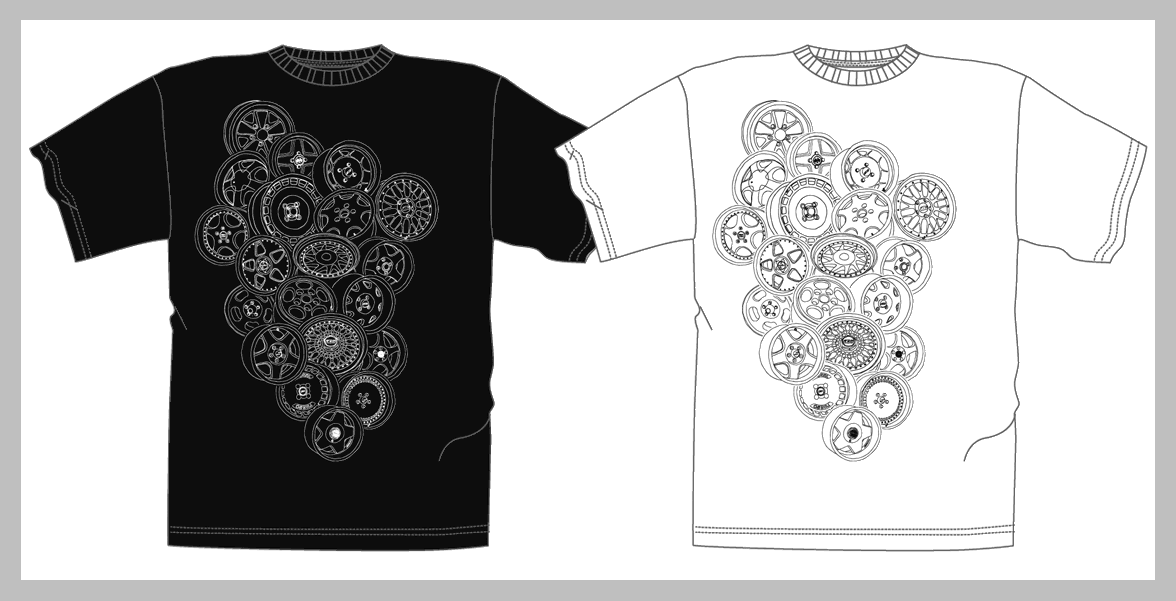 This one, the 'holy hoops' tee took a bit of time to do. I've elected a range of well known rims that are loved in the dub scene, drawn them in line art then created a nice montage shape on the tee. The good thing with this is I haven't named any of the rims so those in the know can play 'spot the hoop' and also argue over why one rim is on and another isn't. I think to put ALL the most awesome rims would be impossible so I ended it here...maybe a sequel? Again, still waiting on labels and not decided on colour schemes. All the hoops on this tee are being split and put onto individual pin badges so you'll be able to get your favourite rim on a badge, now that is some seriously cool shit right there.
I hope you dig where I'm at here, more to follow but for now I'm gonna concentrate on getting these printed and done for sale. The scribble finish is purposeful, gives them a bit of soul I think.
As for prices, i don't wanna price myself out but am thinking each tee will be £17.50 plus postage, but with that you can be guaranteed a cool tee style, good quality material, woven label AND a pack of 2 badges with your order. Once ready to go I'll post up all the info needed, including pricing, tee fit styles, colours and sizes.
If anyone wants to ask more questions or even ask about pre-orders just email me:
al@dubmissile.com
and I'll hit you back with some answers.
Oh, I almost forgot, there WILL be girls sizes with proper girls tees.
Most water cooled dubs will be catered for eventually, whether that be Lupos, Polos, Golfs or Passat estates so all will be good.
Launch imminent!